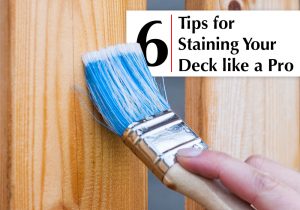 Harsh weather elements, moisture and organic growth (mold, mildew, etc.) can take a toll on the finish on your wooden deck. You can tell whether your deck stain is still protecting the wood if it repels water. If it doesn't, it's time to stain again. In this article, we will share six essential tips to help you stain your deck like a pro.
Let's get started, shall we?
1. Take Time and Prepare Thoroughly
As a rule of the thumb, anything done hastily and without proper preparations only ends with dissatisfactions. Hurrying is also bad for your budget since you might end up re-doing the staining after it fails to live up to your expectations. Work out the probable schedule that you will take, the materials and tools needed, and the budget to work on beforehand.
2. Prepare the Deck
Prepping the deck is one of the most critical steps that many DIY enthusiasts, don't take seriously. To get started, clean the deck using a deck cleaner or pressure washer. Give it enough time to dry completely. Follow the instructions on the cans on how long you should wait for it to dry before staining.
Also, clear the plants on the deck, trim the shrubs and bushes near it, and sand the splintered spots. Lastly, sweep the deck clean and clean between the boards using a putty knife to dislodge any debris.
3. Apply Wood Brighteners
This might sound like a simple process, but it has the most dramatic effects on the final results. Applying wood brighteners helps to open up the wood's surface and improve penetration. The brighteners also help in neutralizing stain strippers that may have been used as well as restoring the old and weathered wood's appearance.
4. Apply Thin Coats
If you're using several gallons of stain for your project, first mix them together to be sure the color is consistent. Then use long, smooth strokes to stain two or three boards at once. Apply solid stains in thin coats and semitransparent stains or clear sealers in even thinner coats. Applying thin coats prevents the formation of puddles that do properly penetrate the wood.
5. Avoid Cheap Stuff
It is common for most people to look out for cheaper deals. This, in most cases, helps to save some cash and direct it to other projects or improve the one at hand. However, this can also be detrimental if due diligence is not taken.
Remember, you will always get what you ask for and what you pay for. If you ask for a cheaper stain, the results may be completely different from what you expect. Generally, better stain ingredients will always cost more. You don't necessarily have to go for the most expensive brand on the market, but just keep in mind that higher quality stains will offer better quality results and a more durable finish.
6. Work with the Weatherman
Before you stain your deck, it is important that you keep an eye on the weather forecast. Staining a wooden deck is best done during a dryer season with minimal moisture and precipitation. If the weatherman says that you should expect at least two dry weather days, take advantage of it. Also, avoid staining the deck under direct sunlight. Failure to observe this means the stain will dry quickly and won't have time to be absorbed well into the wood.
Bottom Line
Deck staining can be a nice DIY project for you and a couple of friends over a long weekend. However, keep in mind that unlike general pressure washing and cleaning, you actually need the right skills, experience, and tools to stain your deck. If you have any doubt in the aforementioned three elements, you should consider hiring a professional painting contractor for some help.