How many times have you looked at your wood deck and think, "It sure has lost its beauty over the years" and, "It will never look good again". Well take a look at these  pictures and what I have to say, because with just a little consistent attention to deck refinishing and maintenance, your wood deck can be a showpiece.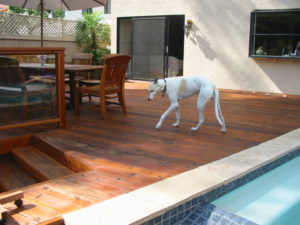 Many people just forget about their deck until it is to a point where they think it is hopeless….but fear not! Surfaces that look long gone can be brought back to life with an oxygen based bleach and a good scrubbing or a very careful power wash (sometimes called a pressure wash or water blast) by a skilled technician.
Another approach to deck refinishing preparation is to set all the nails beneath the surface and then sand the deck to rejuvenate the surface and smooth out any uneven surfaces. The deck finish chosen is critical not only to the beauty and durability but also to the ease of re-coating. If you choose the correct stain then refinishing on a schedule is quite easy. Be careful of ratings given in consumer magazines as to which is the best. They do not consider the cost and process of preparation required to do the re coating in a few years….sure the "top rated" product may last longer, but when you go to re coat  you must fully strip it each time to get an even transparent look. It is best to rely upon the recommendations of a specialty deck supplier or your contractor with lots of experience maintaining decks.
We prefer a true oil penetrating translucent stain (like TWP, Cabots Australian Timber oil, SuperDeck, Penofin or Azko Nobel Sikkens/Cetol) because no matter how many coats you put on over the years all these products keep their transparency while giving the wood an even tint, even in high use areas. We find that softer woods like cedar and redwood will need re coating every 2-3 years depending on exposure while harder woods like Ipa  and teak and other very hard woods need to be coated probably every 1 1/2 years as they are not very porous. Again it is important to rely on an experienced contractor to help you choose the right product for your deck and its maintenance over the long haul. Remember, you can avoid the heavy preparation required when a wood deck gets very heavily weathered by implementing regular maintenance with a light cleaning and re coat  Here's to you enjoying your beautiful wood again!