Deck finishes are often used to give your old wooden deck a new look. Moisture from rain, snow, or humidity sometimes causes problems like raised grains, cupping, and splitting. Furthermore, ultra violet rays from the sun breaks down the wood deck's lignin that holds the wood's cellulose fibers together, which causes the wood's natural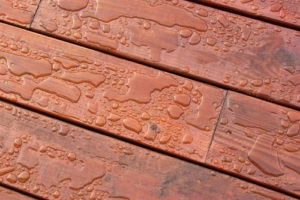 color to gray. Only a good deck finish can help change the shabby look of your deck.
However, before you purchase the finish for your deck, you have to learn more about what the best deck finish is. While there is no official rating system to determine which deck finish is the best, you can find the following instructions helpful to choose the best deck finish.
Stains and Sealers:
Deck finished mainly fall into two categories – deck stain and sealers. Both deck stain and sealers are designed with a purpose to seal out the elements. But the sealers are clear and available in a non-pigmented finishes. On the other hand, stains are available with a little pigmentation.
As mentioned earlier, stains are available with little pigmentation. You can also find semi-transparent and solid-colored stains. Stains are quite different to the paints. Paints actually create a surface film, clear and pigmented finishes and penetrate the wood surface. Paint can also stand up to huge amount of traffic. A good quality deck stain does three things – it prevents water, preserves the wood from moisture, and protects the wood from UV rays. The best deck finishes are those that offer all these three features.
Oil or Water Based Deck Finish:
Deck finish can be either oil or water based. Depending on your requirement and priorities, you can choose oil or water based deck finish. Oil-based deck finishes offer more and long-lasting protection since they penetrate the wood deeper than water-based finishes. Alternatively, water-based deck finishes are very easily to wash. Water based finishes are more forgiving in high moisture conditions and even a damp wood surface can absorb water based product. On the other hand, the wood surface should be properly dry before it accepts an oil-based sealer. With so many good quality water based finishes available in the market, water-based finishes also last longer than they did a couple of years ago.
Clear or Color Finishes:
Homeowners are fond of clear wood finishes since they let the natural grain of the wood to show through. As clear finishes are transparent, you can't leave any lap marks while applying the sealers on your deck, which is a common issue with color deck finishes.