Front doors are the most important part of your home and they require a certain amount of maintenance, such as regular cleaning, weatherproofing and the occasional and well-deserved spruce up. A fresh coat of paint is an ideal opportunity to choose a new and refreshing color for your home's front door.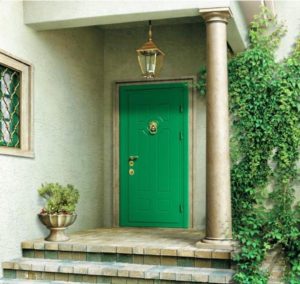 Choose a New Paint Color:
It is important to choose a new paint color for your front door. For your exterior front door, you should not use the regular enamel paint that we generally use for the interior painting. The best paint for exterior front doors is exterior acrylic paint since it is flexible and contains high quality materials to protect your door from harsh conditions. While choosing a new color for your front door, you should consider the colors in your home as well as its surroundings.
Remove all Hardware from the Door:
If you want to achieve a professional-looking finish, you can take time to remove the locks, knobs and other hardware from the door before painting. You can easily tape them off and paint around them. However, if you are thinking of a new hardware for your front door, this is the right time for that. Also, do the necessary prep work required for your front door. For example, you can clean the door by using a palm sander to roughen the flat surfaces of existing paint.
Apply a Good Primer:
You may want to get the primer tinted by depending on the final color. By doing this, you will actually need fewer coats of paint. When theprimer will dry, you will need to run the sandpaper lightly over the surface in order to level out the potential irregularities in the primed finish. You can even use a rag to clean off the sanding dust.
Paint All Edges and details:
It is also important to brush the inset or trim details manually with a paintbrush so that you can lay an even base coat. It will be better if you use the brush to feather out the edges of the paint so that there are no drips.
Paint the Flat Surfaces:
Use a roller with a low-nap texture or a high-density foam roller to apply a smooth and consistent paint application across all of the flat surfaces. Don't forget to include the edges of the door. Low-nap foam roller is ideal since they leave minimal stippling on the surface.