Kitchen painting is often considered the most difficult among the other paint projects. This is because kitchens are unlike other rooms in your home since they are exposed to food, smoke, grease, dirt, and mildew. Therefore, it is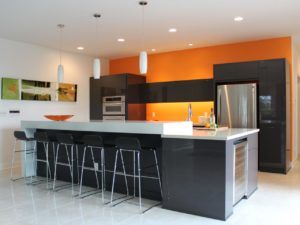 important to keep some extra things in mind to ensure your paint job will stand out in the crowd.
Mentioned below are the steps that you need to follow while preparing your kitchen walls for repainting.
Clean Kitchen Walls:
The first thing you need to do is to clean your kitchen walls properly to make sure there are no grease, mildew, and dirt. Over time, kitchen walls develop a good layer of grease from everyday cooking, especially in smaller kitchens. You can take a scrubby sponge and clean the walls with some mild detergent. This will remove any grease and ensure that the paint will be able to adhere to the drywall.
Sand the Walls:
The next step is to sand the walls. Once the cleaning is complete and walls are properly dry, take coarse sandpaper and properly the surface. This will remove any bumps or other imperfections that your kitchen walls may have developed over the years. Also, check whether there are any holes or divots on the wall. If there are any holes, spackle them with spackling paste. Spackling paste is used by many professional painters in Solana Beach since it does not need a prime coat and it sands easily. Once the spackle paste is dry, you need to sand the place with 220 grit sand paper. It is important to sand the surfaces in a circular motion in order to get a smooth finish.
Get the Kitchen Ready for Painting:
Once sanding is complete, you need to get the space ready for painting. Wipe down all walls with a wet cloth and vacuum all of the dust to prep for paint. Lay down plastic on all cabinets, appliances, furniture, and floor.
Choose the Best Paint:
When it comes to choose the paint, you need to consider your kitchen layout and floor plan. If you have an open floor plan and a big kitchen, the best is to use flat finish on the ceiling, eggshell or satin finish for the walls and semi-gloss finish for the trims. On the other hand, use eggshell or satin finish for the ceiling if you have a smaller kitchen. This is a standard rule for all types of kitchens and will likely be consistent with the rest of the house.