Homeowners often find a nail hole in drywall when applying paint on the interior surface of their home. Filling nail holes in your drywall is the most important thing a homeowner should complete prior to applying a new coat of paint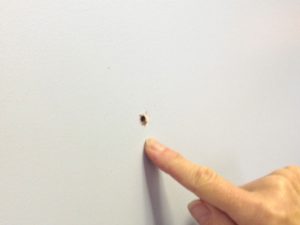 to the interior surface. Fixing nail holes prior to paint the interior of your house ensures the paint job lasts longer.
With mainstream building materials and the changing scenario in the field of paint products, homeowners often face challenges in filling nail holes. However, knowing what nail holes filler to use can help you win half of the battle.
Is It Necessary To Fill Nail Holes Before Painting the Wall?
No wall is perfect and when you are trying to increase the curb appeal of your home by applying a fresh coat of paint, it will look a whole lot better if you apply the paint on a smooth wall surface. This is the reason why you need to fix all the flaws of the wall first since the day one. Flaws like nail holes start appearing months or years later as your house grows older. Nail holes on the wall are a serious headache. Fortunately, today there are plenty of options to fix all these problems.
How to Fix Small Nail Holes?
Small holes that appear from photo frames or picture hangers are very easy to fill. You just need to gently tap on the wall with the handle of the putty knife. This ensures to drive any standing drywall which is facing below the surface and will help to create a tiny hole. Once done, fill it with good quality wall filler.
Nail holes are generally caused due to the fasteners that are used through the drywall paper at the time of installation. In order to fix these problems, you can drive in a drywall screw near the nail hole in such a way so that the head of the screw penetrates just below but not through the drywall paper. Then remove the old screw by using a gun tip through the middle of the nail pop. Once done, fill the old nail hole with good wall filler. In order to properly fill the nail holes, you can even apply two coats of drywall compound and sand the area lightly. Don't forget to prime the repaired area before applying paint. Priming ensures that the paint adheres well to the surface.
If you face any difficulties in filling nail holes, you can consult with professionals who deal in House Paint Interior in Winter Gardens.